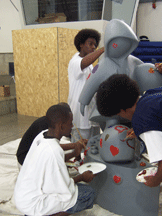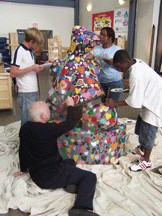 As Mackenzie Thorpe travels to exhibitions across four continents, he has worked with children from all walks of life to help them express and better understand their adversities via interactive art workshops. Children who have participated internationally include: private school children in Tokyo, inner city children in the New York City school system, autistic and dyslexic children in various care facilities, terminally ill children, Aboriginal children in the Australian outback, and countless other groupsin smalltowns and cities across the US, the UK, Japan and Australia.

At each art workshop, Mackenzie has commissioned these children to paint a heart, the universal symbol of love. A selection of these works have been curated from the hundreds of drawings created and will be exhibited for thefirst time in a unique installation within Mackenzie's exhibition at the Leedy-Voulkos Art Center.

While in Kansas City, Mackenzie worked directly with various youth groups and has generously pledged a portion of the exhibition proceeds to benefit these local organizations.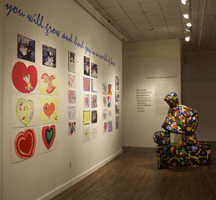 "MY HOPE IS TO UNITE US THROUGH THE EYES OF THESE CHILDREN AND LET TODAY'S CULTURES UNDERSTAND THAT IN ORDER TO SUSTAIN OUR SOCIETIES, WE MUST PROTECT AND NUTURE OUR CHILDREN, AS WELL AS THE CHILD WITHIN US ALL. IT IS OUR RESPONSIBILITY TO LOVE THESE CHILDREN, TO LET THEM BRING LOVE BACK TO THE WORLD, AND TO KEEP OUR EYES OPEN TO THE WONDERMENT OF CHILDHOOD."